Manor Farm

 has

 

sold out for 2024′s event.

If you are interested in booking in here for 2025′s Festival please email us from 1st October 2024
. 

P

lease

contact Matthew or Bug: matthew.mckaig@gmail.com

At Manor Farm we provide an intimate and unique venue for a limited number of Festival guests who we are able to put up in a choice of comfortable accommodation, either in our house or located in the spacious garden. We also provide official Glastonbury Festival Hospitality tickets (at face value cost) with bookings made.

Since 2013′s Glastonbury Festival the Suitehuts (see below) have been very well received at Manor Farm. In addition we have the Cottage (sleeping four), also a small converted  barn (The Bothy, sleeping two) Please see the 'Cottage' and 'Bothy' tabs on our website for further detail.

Overall our Festival guests have been delighted with their experience at Manor Farm. They remarked on how quiet and peaceful our site was, with lovely views over the Somerset levels, towards Wells and the Mendips, but at the same time a mere 10 minute and (almost entirely) level walk to the Campervan pedestrian entrance – one guest remarked that it was "Glastonbury without tears".

A great advantage is the ability both to arrive and to leave Manor Farm with the minimum of hassle; whilst the roads are undoubtedly busy during Festival time, the directions given to our guests ease the pain!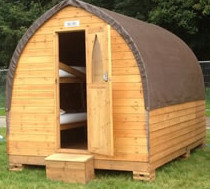 THE SUITEHUTS
Each Suitehut has a double (or twin) bed; also having a loo, shower & basin - heaven!   This is the ultimate location for smart and comfortable hospitality camping.
For the next event in 2024 we plan to provide similar accommodation at Manor Farm.
Official Glastonbury Festival Hospitality tickets will also be available (at face value) with the accommodation provided at Manor Farm. Cost for Hospitality tickets for the Glastonbury Festival in 2024: TBC.
PLEASE NOTE: For any package which includes entry to the Festival, the Festival's full ticketing terms and conditions can be found here:
https://www.glastonburyfestivals.co.uk/information/tickets/#TCS
Overhead View of Glastonbury Festival showing position of Manor Farm